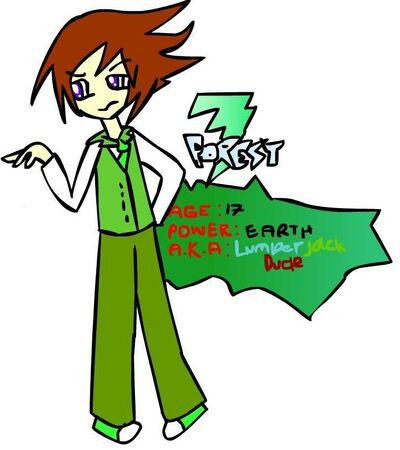 Forest Evergreen is one of the main villains of the series.
Ha was bullied by the kids near his shed. He was dared by one of them to touch the tree of darkness. He turned evil back then.
First Appearance: I'm A Hero
Last Appearance: Princess Blanket
His Powers are Earth , Mud , and , Strength.
Rare Abilities: (none)
Special Ability : Axe Throw
Personality
Edit
He is a bit of a temper. He always gives advice to Patch when he needed it. He likes seeing Dyna. He secretly likes Dyna , causing him to become less evil. He was the Prince of Light.
none
Alive
Relationships
Edit
Dyna - His wife and trainee.
Ace - Formerly friend , but they became rivals
Coal Candy Head (Columbus) - Cousin , but neither of them knew.