Lauren! Her twin sister is
Cecilla Ghost Whisper
 and her codename is Spellbinding Witch.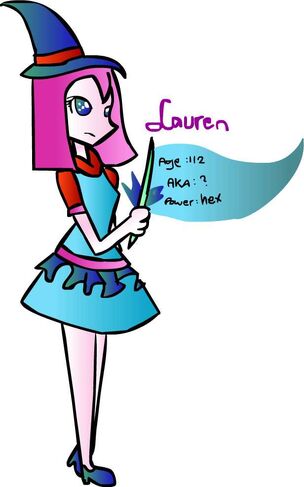 First Appearance:
Last Appearance:
Personality
Edit
Lauren might look like a regular girl, but is not. She is a talkative witch and, like her sister, wants to be good insted of evil. Her and Cecilla are very different, with Cecilla shy and Lauren active, but are VERY good sisters. Lauren was missing for 3 1/2 years until Cecilla and Ace found her. When she turns into a regular girl, she's 14.
Abilities
Edit
Rare Abilites: Broom Throw, Magic Blow, Nightmare Dream (Cecilla and Lauren both have this)
Special Ability: Evil Shower
Lauren is afraid of birds, because they creep her out.
Alive